ADVISORY BOARD
Advisory Board Members 顾问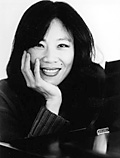 Janet Yang
PRODUCER & CONSULTANT
Janet is a prominent Hollywood producer with deep roots in China. Her extensive Film and TV credits include "The Joy Luck Club", "The People vs. Larry Flynt", "Dark Matter", "Shanghai Calling", and "Documented". Yang won both a Golden Globe and Emmy for her HBO film, "Indictment: The McMartin Trial". She began her career bringing Chinese cinema into North America, and then representing the Hollywood studios to broker the first sale of American films into China. This in turn led to joining Steven Spielberg on the historic production of "Empire of the Sun". Yang has been named one of the "50 Most Powerful Women in Hollywood" by the Hollywood Reporter. She is a voting member of the Academy of Motion Pictures Arts and Sciences, as well as a member of the Executive Committee of the Producers Branch of the Academy, and the Committee of 100.
Janet recently held the position of Managing Director at Tang Media Partners and in this role was in charge of creative content and production. TMP, founded by Donald Tang, has investments from key Chinese companies such as Li Ruigang's CMC and Neil Shen's Sequoia Capital. They are active in bridging the entertainment industries between the US and China.
杨燕子
杨燕子是一位资深华裔电影制片人,30年来活跃在太平洋两岸。她的职业生涯起步于好莱坞,将80、90年代的优秀中国影片引进到美国市场中来。她后来制片的作品包括《喜福会》(1993年金球奖最佳影片提名)、《性书大亨》(1996年奥斯卡最佳影片提名)、《暗黑物质》、中国版《歌舞青春》以及即将上映的最新中美合拍独立电影《海上爱情故事》。杨燕子和中国电影集团之间有一个首看权开发协议。
Michael Andreen
Michael Andreen is a producer at Narratology. He has also consulted for Legendary Pictures Chinese venture Legendary East in addition to Chinese media companies and funds that include China Film Group, LeVision, and Chinese Mainstream Media National Film Capital. Prior to his consulting, he was the Senior Vice President of Disney International Productions, supervising Walt Disney's local language productions in Asia, South America and Europe. He has also worked as an Senior Vice President at Sidney Kimmel Entertainment, Executive Vice President at Warner Independent Pictures, and Senior Vice President at Fox Filmed Entertainment. Andreen started his career working for Martin Scorsese. He received an MFA in creative writing from NYU and a BA in English Language and Literature from the University of Oregon.
迈克尔 安德林
迈克尔 安德林是传奇东方影业新晋任命的制作总监。在此之前,他任沃特迪士尼国际制片公司副总裁,监督迪士尼影业在亚洲、南美洲、中东和欧洲的众多外语影片制作。安德林的职业生涯第一份工作是在纽约为马丁思科西斯工作。他毕业于纽约大学。
Susan Xu
VICE PRESIDENT, CHINA FILM CO-PRODUCTION CORPORATION
Susan Xu is the Vice President of China Film Co-production Corporation. CFCC is the specialized arm of China Film Group fulling in charge of all China-Foreign co-productions, helping getting government permits, advising on scripts to get through China's state censorship, and offering local production services all over China. Susan Xu is fluently bilingual and a seasoned expert on all questions regarding how co-production works in China. Susan is based in Beijing and frequently travels between China and the U.S.
徐淑君
徐淑君是中国电影合拍集团公司的副总裁。中国电影合拍集团公司是中影集团旗下专门负责中外合拍的单位,协助外国电影公司在华获取拍摄许可证,为剧本通过审查提供专业意见,并在中国大陆境内提供全套拍摄协助。徐淑君女士双语流利,是合拍问题的专家。她在北京工作,但在中美之间往来频繁。
Chris Fenton
DMG'S GM OF NORTH AMERICA & PRESIDENT OF DMG ENTERTAINMENT, MOTION PICTURE GROUP
Chris Fenton has worked as the General Manager of DMG's North American Operations since 2001 and was named President of DMG's entertainment division in 2011. Fenton's relationship with DMG and DMG's CEO, Dan Mintz, dates back to Fenton's 8-year tenure as an agent at the William Morris Agency in the 1990's.
Early on as GM, Fenton focused on creating new business for DMG's advertising & marketing operations by signing US-based companies such as FRUIT OF THE LOOM, BEHR PAINT, SPALDING, UNDER ARMOUR, and KING 888 energy drink. However, Fenton's responsibilities have grown over the years to include procuring and creating television and film content & I.P., forging alliances with key North American based marketing partners, negotiating music publishing contracts, pursuing endorsement/sponsorship opportunities, consulting on physical production, co-production, and financing issues in China, producing film & television, representing content creators & artists, forming media distribution strategies & alliances, hiring executives and other personnel for DMG's various divisions, cultivating key business, educational, & government relationships, and relating with North American press/media/universities on various DMG and China-oriented issues.
Fenton is also an Executive Producer on AUTOBAHN which is currently in production in Germany. Additionally, he was an Executive Producer on Univeral's $225 million dollar budgeted Keanu Reeves epic action adventure 47 RONIN and the $12 million dollar budgeted action thriller NUMBERS STATION starring John Cusack. Additionally, Fenton was a lead production executive and chief negotiator on the DMG/Endgame financed co-production LOOPER, starring Bruce Willis and Joseph Gordon-Levitt and Marvel Studios/Disney/DMG's IRON MAN 3 starring Robert Downey, Jr., Gweneth Paltrow, Guy Pierce and Ben Kingsly. He also worked in the same capacity on Alcon/DMG's TRANSCENDENCE starring Johnny Depp, Rebecca Hall, and Paul Bettany as well as the upcoming Alcon/DMG POINT BREAK remake to be released in August of 2015.
Robert Cain
CONSULTANT, WRITER, AUTHOR OF CHINA FILM BIZ
Robert Cain has worked for more than 20 years in Hollywood and the global entertainment industry, primarily as a production, finance, strategy and creative development expert. He has been doing business in China since 1987, where his producing and entertainment management experience includes production of the TV broadcast Three Tenors in the Forbidden City, development/production executive on several feature films that shot in China, and consultant to Shanghai Media Group, CCTV, China Film Group, Universal Pictures, Starz, Illumination Entertainment and others.
Mr. Cain's film experience extends from finance and distribution management to creative duties on more than a dozen successful films, including such critical and commercial successes as The Usual Suspects, Breakdown, Bound, Blade 2, and Cabin Fever. He is Executive Producer of Laura Smiles, which premiered in the 2005 Tribeca Film Festival, of The Amateurs, a comedy starring Jeff Bridges, and he set up the film Mongol, an action epic about the early life of Genghis Khan that was nominated for a 2008 Academy Award for best foreign language film.
Mr. Cain has worked as a senior executive at talent-based companies such as Danny DeVito's Jersey Films and Aaron Spelling's Spelling Entertainment in formulating and executing business plans to expand their operations. His corporate clients have included Universal Studios, MGM, Sony Pictures Entertainment, DirecTV, NBC, the BBC, the Screen Actors Guild, Kodak, New Line Cinema, Mattel and others.
An award-winning screenwriter, he holds a bachelor's degree with honors from Harvard University and an MBA degree with honors from the Wharton School of Business.
罗伯特·凯恩在好莱坞和世界娱乐产业已有20余年工作经验,是一位影视制作、融资、战略和创意发展专家。从1987年起他就在中国做生意,制片和娱乐管理经历包括制作电视节目《紫禁城世界三大男高音歌唱家》、开发制作几部在中国拍摄的电影故事片,以及为上海文广集团、中央电视台、中国电影集团、环球影业、Starz电视台、Illumination动画公司等公司担任顾问。
凯恩先生的电影经验涵盖融资、发行管理、创作,他参与过的影片包括《非常嫌疑犯》《大胆的爱小心的偷》《刀锋战士2》《小屋热》等。他监制了2005年翠贝卡电影节首映的《劳拉微笑》、杰夫·布里奇斯主演的喜剧《业余者》,并发起了2008年获得奥斯卡最佳外语片提名的史诗电影《蒙古王》,讲述成吉思汗的早年人生。
凯恩先生也曾就职于大明星们经营的娱乐公司,如丹尼·德维托的泽西影业、亚伦·司柏林的司柏林娱乐,担任高级管理层,并拓展了他们的业务。他的客户曾包括环球影业、米高梅、索尼电影、DirecTV有线电视、NBC电视台、BBC电视台、美国演员工会、柯达、新线影业和美泰玩具等等。
他也是一个获奖编剧。凯恩先生本科毕业于哈佛大学,MBA毕业于沃顿商学院。